But why settle for a traditional dining experience when you can elevate your meal to new heights? Embark on adventure like no other, enjoying dinner on board, or lunch if you prefer.
With the calm waters of the Tagus River as your backdrop, you'll enjoy a delightful combination of mouth-watering dishes, beautiful views, and live entertainment. Join us as we dive into the details of this unique experience that will leave you with unforgettable memories and a taste of true Portuguese hospitality.
Exploring Lisbon
As you step on board the boat, you'll immediately be captivated by the stunning views of Lisbon and its surroundings. The Tagus River, with its shimmering waters and picturesque landscapes, sets the stage for a truly magical experience. Departing from the historic Doca de Alcantara, the boat takes you on a leisurely cruise along the river, passing by iconic landmarks such as the 25 April Bridge, Christ-King, MAAT, Belém Tower and Commerce Square.
The spacious sundeck offers ample seating options, allowing you to relax in the sun or seek shade under the awnings. Take advantage of this prime vantage point to capture Instagram-worthy photos of Lisbon's hilly landscape and architectural wonders. Inside the boat, comfortable seating and large windows provide panoramic views, ensuring that every guest can fully appreciate the beauty of the city from a unique perspective.
A Feast for the Senses: The Culinary Delights
Dinners on board are a growing trend among companies. What began as an occasional experience for special celebrations with family and friends has become an increasingly common practice to strengthen bonds and promote a healthy working environment.
As the Christmas season approaches, many companies are already starting to plan their Christmas dinner. In addition to Christmas dinners, some people also choose to hold company anniversary celebrations or even themed dinners.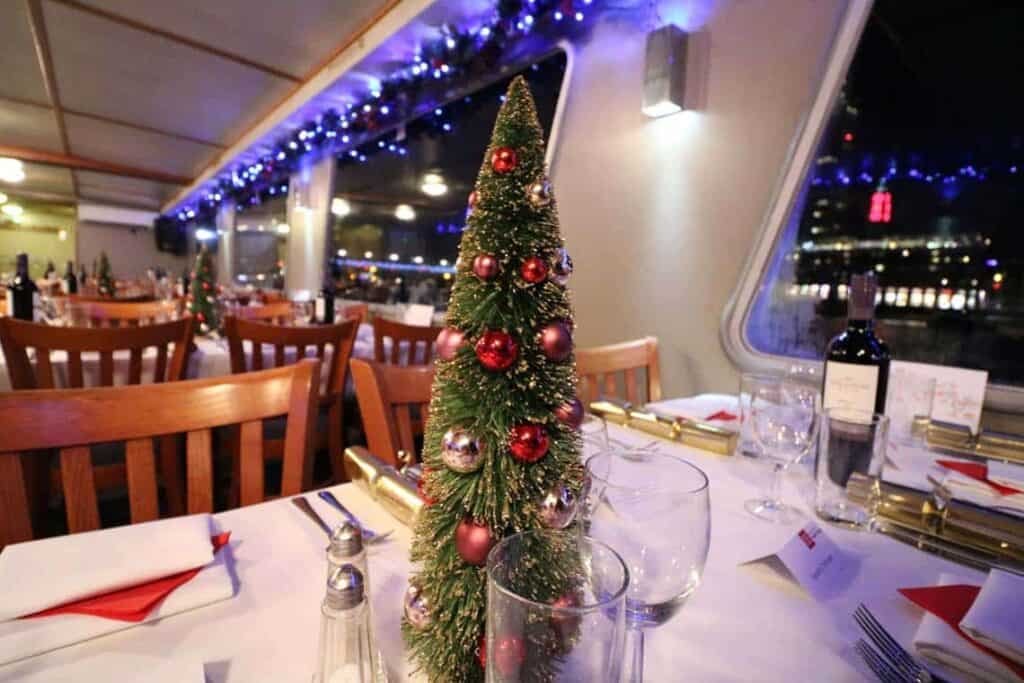 No dining experience on a boat in Lisbon would be complete without indulging in a sumptuous meal. The onboard restaurant offers a delectable a la carte menu, showcasing the best of Portuguese cuisine. From traditional starters to mouth-watering main courses and divine desserts, every dish is prepared with the utmost care and attention to detail.
The menus served on board are suitable for each boat as each vessel has its own specific characteristics (for example, there are boats on which it is possible to serve barbecue or seafood).
Don't forget! Save room for dessert, as the offerings are sure to satisfy your sweet tooth. Fresh fruit, coffee, and tea are also available to complement your meal. During dinner, drinks are included, ensuring that you can enjoy your favorite beverage.
Live Entertainment on Board
Immerse yourself in the vibrant and soulful sounds of Fado, a traditional Portuguese music genre that evokes emotions like no other. Let the melancholic melodies and poetic lyrics transport you to the heart of Portuguese culture and history.
As well as fado, there are other types of live entertainment you can enjoy during your meal. Such as the performance of a pianist, a group of saxophonists, a DJ or even bringing your own playlist. If you want to be even more original, you can share your idea with us!
Take a moment to appreciate the beauty of Lisbon's landmarks illuminated against the night sky. The illuminated Jerónimos Monastery and Discoveries Monument create a stunning backdrop for this truly captivating performance. The combination of delectable food, breathtaking views, and live entertainment ensures a truly immersive and unforgettable experience.
Enhanced Networking
In addition to promoting teamwork, these events are also ideal for networking. Companies often invite clients, business partners and other stakeholders to these onboard dinners, creating opportunities to establish valuable connections and strengthen business ties. If you're starting to like our idea, you should know that our boats have capacity for 300 people.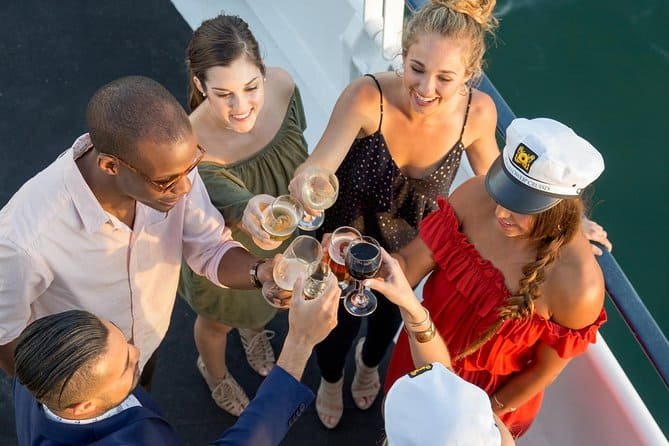 Recommendations
To make the most of your dining experience on a boat in Lisbon, here are some recommendations and tips to keep in mind:
Dress comfortably: Lisbon's climate can vary, so it's advisable to dress in layers to accommodate changing temperatures. Bring a light jacket or sweater to ensure your comfort, especially during the evening cruise.
Arrive early: It's recommended to arrive at least 10 minutes before the scheduled departure time. This will give you time to deal with any unforeseen circumstances, meet your coworkers and settle in for a memorable experience.
Enjoy your dinner and have fun!
Frequently Asked Questions
Q: Can I bring my own food or drinks on board?
A: For safety and hygiene reasons, it is not allowed to bring food and drink.
Q: Is the dining experience suitable for vegetarians or guests with dietary restrictions?
A: Absolutely! The menu includes vegetarian options, ensuring that all guests can enjoy a delightful meal. If you have specific dietary restrictions or allergies, please let us know in advance.
Q: Is the boat wheelchair accessible?
A: Depends on the boat. Please contact the person in charge for more information.
Q: What happens in case of bad weather?
A: In the case of bad weather, i.e. if the Port of Lisbon is closed to navigation, the tour may be rescheduled or canceled. If your event is affected, we will work with you to arrange alternative solutions or proceed according to our refund policy.
In conclusion…
Dining on a boat in Lisbon offers a unique and enchanting experience, combining the best of Portuguese cuisine, breathtaking views, and captivating live entertainment. Ask us for a quote and embark on an adventure that will leave you with a lasting impression and create unforgettable memories in Lisbon. Bon appetit!